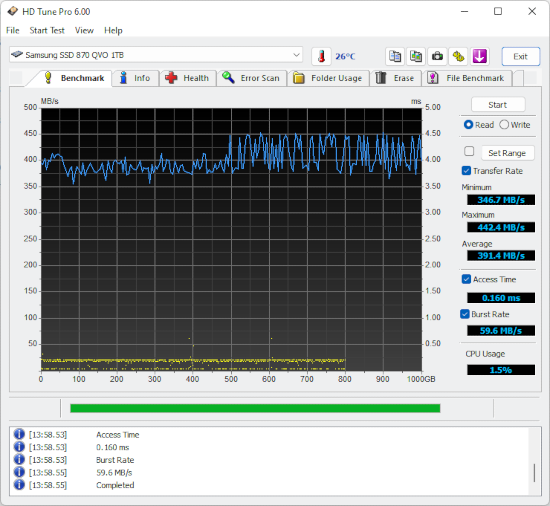 Los discos duros son aparatos complejos, muy proclives a fallos mecánicos. Una vigilancia periódica del estado de salud de las unidades de almacenamiento te evitará desagradables sorpresas.
HD Tune es una herramienta de diagnóstico que ayuda a comprobar el estado de los discos duros, ya sean internos, externos o extraíbles. Selecciona la unidad en el menú desplegable para que HD Tune la analice. Lo primero que verás es la temperatura del disco, también visible en la bandeja de sistema.
La primera pestaña de HD Tune contiene la prueba de rendimiento (Benchmark), que se ejecuta haciendo clic en Start y comprueba la velocidad de la tasa de transferencia; los demás parámetros sólo se recopilan en la versión Pro. Info y Health contienen, respectivamente, datos sobre la unidad e indicadores SMART, mientras que en Error Scan, la última pestaña, HD Tune ofrece un escáner de errores bastante rápido.
Como utilidad de diagnóstico -que no de reparación-, HD Tune da ampliamente la talla. La versión gratuita sufre un poco por el recorte de funciones, pero lo esencial está disponible.

---
HD Tune is a HD/SSD utility which contains various functions ranging from drive performance measurements to securely erasing all data. It is also capable of performing disk health checks (including scanning for errors and a temperature display).
HD Tune Pro adds the following functionality compared to the free version: low-level write performance benchmark, file benchmark, random access performance measurement and a cache test. It also sports a disk monitor, a folder view (which displays the disk usage per folder) and the ability to manipulate the AAM (Automatic Acoustic Management) settings. HD Tune supports HDs (internal or external), SDDs, USB sticks, memory cards, iPods, etc.
HD Tune Pro 5.0 (FOSI Version)